Arthur's vision of the USA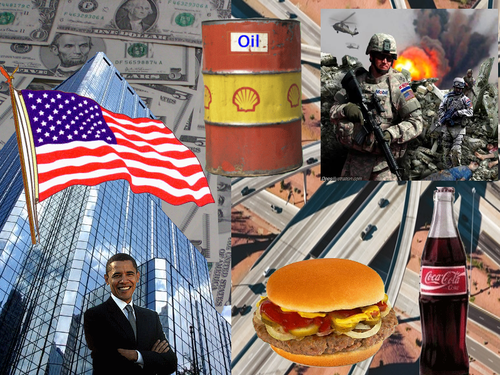 This photomontage shows two parts of America. On the left we can see a positive vision of the United States of America, and on the right there is a negative vision of the USA.
In the first part we find Barack Obama at the bottom. He embodies the American dream : even if he belongs to the African American minority, he has managed to become the most powerful man in the world. The skyscraper on the left and the banknotes on the top left-hand corner show the economic power of America. The American flag, also known as "The Stars and Stripes", represent the patriotism of American people.
A bottle of Coca-Cola and a hamburger are at the bottom of the second part : they symbolize the american way of life. These symbols show that a lot of people in America drink and eat unhealthy food. The background of the second part shows an huge highway, which stand for another consequence of their way of life : the USA is one of the most polluting countries in the world. It is also because of this consumerism that the USA needs oil, which is next to the American flag. The last picture on the top right hand corner refers to the Iraq war and the war in Afghanistan, where a lot of soldiers and civilians have died.
To conclude, I think America is not just a country, but also embodies a way of life.
Partager cette page