Mathilde's vision of the USA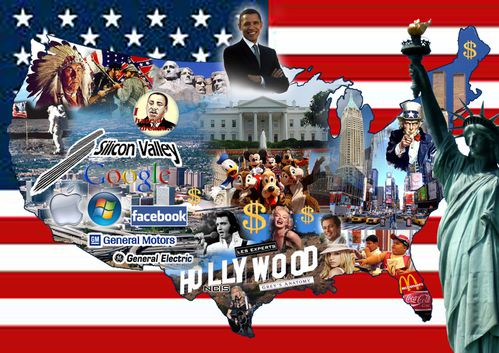 I decided to put the American flag in the background because it represents the 50 states and the 13 founding states of the United States. After, I put the map of the USA to place symbols on it. I represented Barack Obama at the top of the map and in the middle because it's the current president of the country and I think he is very important because he is the first black president of this country. Below him, I placed the White House because it is where the president lives.
The USA is a country which was first inhabited by the native that I symbolized with the Indian. I also decided to put forward the fighting for equality between white and black people with the Secession War and Martin Luther King. I represented these symbols on the left of Barack Obama because it is the history of the country; I added the former presidents too through Mount Rushmore, and Armstrong, the first man who walked on the moon.
At the bottom left-hand corner, I represented the Silicon Valley because it is situated in this part of the country, in California. This valley, with multinationals such as Google or apple … embodies hegemony and the economic power which is the biggest in the world. I placed several dollars too because it is the currency of the United States to embody the economy.
I could not represent Hollywood in California because I did not have enough space because of the Silicon Valley so I decided to put it in the middle because it represents fame. I represented Hollywood with singer like Elvis Presley, actors like Marilyn Monroe, series like NCIS and Disneyworld; all these people stand for the entertainment industry.
I put New York with the yellow taxis in the East because it is where the city is situated in the country, Skyscrapers; embody the economic strength. I placed Walt Street Center in the North East because it is its geographical situation. And I represented Uncle Sam next to them because he symbolizes the US government and the military power of the USA.
In Florida, I represented McDonald's and Coca-Cola with fat children because it is where they are the most numerous.
To finish, I represented Lady Liberty on the right, in the foreground because she is situated in New York and she stands for immigration waves which have peopled the USA throughout the years, and she represents the freedom too.
Partager cette page