Oceane's vision of the USA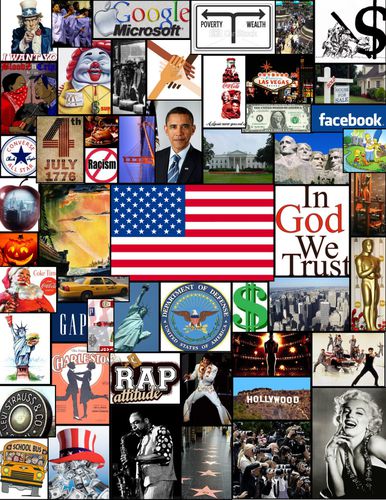 I decided to place the American flag in the middle of my photomontage because it embodies the USA with the fifty stars which represent the different states, and the thirteen stripes which symbolize colonies.

All around the flag, I put the main symbols of the USA: we can see Barack Obama, the President next to the White House; Mount Rushmore which embodies the most important presidents of the American history; the American motto:" In God we trust"; the dollar which is the national currency; the emblem of the army; the Statue of Liberty which embodies immigration waves which have peopled the USA throughout the years; and the American Dream which shows that the USA is a welcoming territory where everything is possible.
In the bottom right-hand corner, I represent the power of the American cinema and music thanks to the Oscars, paparazzi and the Walk of Fame. Music is illustrated by Jazz, Rap, Rock'n'Roll (with Elvis Presley) and the musical "Grease".
The part on the left of the photomontage shows the typical symbols of the USA, like the yellow school bus; some brands (Gap, Levi's, All star; Pepsi; Coca-Cola and Ketchup), the yellow taxi, traditional holidays (Halloween and Thanksgiving); the Big Apple (New York); fast-food restaurants and obese people (thanks to the caricature of Mc Donald); High technologies (Google, Apple and Microsoft); street gangs (Bloods and Crips); the traditional Gospel; the famous Independence Day and; Uncle Sam who embodies the American military power.
At the top right-hand corner, I represent American economy: we can observe Wall Street; the collapse of the dollar; houses for sale generated by the economic crisis and, Las Vegas which embodies gambling. Las Vegas is a real contrast because it obviously represents the debt but it echoes the American Dream with the idea of becoming rapidly rich. Moreover, capitalism and liberalism are represented thanks to the sign which shows that on one hand, there are the poor and on the other hand, there are rich people.
To finish, we can recognize above Barack Obama, the main characteristic of the USA: Multiculturalism, with four hands crossed. The location of this picture shows that a colored president is the result of this phenomenon.
Partager cette page